KINGDOM AGE MINISTRY

Proclaiming the Coming Reign of Christ, the Lamb of God
and the Lion of Judah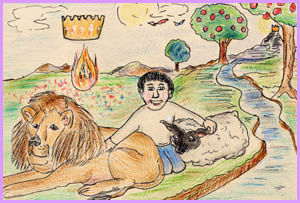 What Kingdom Age Ministry is About
The Spirit of the Lord God is upon me, because the Lord hath anointed me to preach good tidings unto the meek; He hath sent me to bind up the broken-hearted, to proclaim liberty to the captives; and the opening of the prison to them that are bound; To proclaim the Acceptable Year of the Lord, and the Day of Vengeance of our God; to comfort all that mourn; To appoint unto them that mourn in Zion, to give unto them Beauty for ashes, the Oil of Joy for mourning, the Garment of Praise for the spirit of heaviness, that they might be called Trees of Righteousness, the Planting of the Lord, that He might be glorified (Isaiah 61:1-3).

Christ's Appearing (the Rapture of the Church) completes the 3-fold salvation of our spirit, soul and body.

We who believe in Christ shall be delivered from the hour of wrath. Christ shall appear to take His Bride, the Church to the Father's House in heaven. There we shall be spiritually united with Him.The Church is referred to as the Bride of Christ. In Ephesians 5:25-33 Paul compares earthly marriage with Christ's relationship to the Church. When Jewish couples got married, wedding feasts would last at least 7 days. The happy couple would retire to a bridal chamber. While God pours out His wrath upon an unbelieving world, The Church, the Bride of Christ, is hidden in the heavenly Bridal Chamber, kept in safety from the Antichrist and other terrors of the 7-year Tribulation period. Isaiah 26:20 speaks of that period of seclusion. Come, my people, enter thou into thy chambers, and shut the doors about thee: hide thyself as it were for a little moment, until the indignation (wrath) be overpast. Rev. 19:7-8 says, Let us be glad and rejoice, and give honour to him (Christ) : for the marriage of the Lamb is come, and his wife hath made herself ready.

How? By arraying herself in fine linen, clean and white, which represents the righteousness of the saints (verse 8). And he (the angel) saith unto me (John the Revelator), Write, Blessed are they which are called unto the marriage supper of the Lamb (verse 9).

But let us, who are of the day, be sober, putting on the breastplate of faith and love; and for an helmet the hope of salvation (I Thessalonians 5:8). God has not appointed believers to Tribulation Wrath, but to obtain salvation from it through Christ (I Thes. 5:9).

Jeremiah 30:7refers to the 7-year Tribulation, a time of trouble never before seen in the history of the world, as Jacob's Trouble. Dan.12:1 promises that everyone found in the Book of Life will be delivered from it.

Hebrews 9:28 ...and unto them which look for Him shall Christ appear the second time without sin unto salvation.He will appear unto those who look for Him! The world isn't looking for Christ to come, Instead they're mocking the notion that He could come back. He is not coming back laden with our sins He took upon Himself on our behalf, but as One victorious over sin and death, to redeem us unto Himself out of the earth.

Now is OUR (we who are already born again) salvation nearer than when we first believed (Romans 13:11). This supports the idea that our salvation is accomplished in three stages. We were saved from the PENALTY of sin when we prayed for salvation from sin. Now we are being kept in salvation because of the intercessions of Christ, our faithful High Priest in heaven, Who is able to save us to the uttermost (Hebrews 7:25). Through the power of His Life in us we are now being saved from the POWER of sin in our daily lives. Even this process will be completed at the Rapture, when we will be delivered from the frailties of mortal flesh, and saved from the very PRESENCE of sin. Thus shall our body be saved from the EFFECTS of sin, which cause death (Romans 6:25; James 1:15). At the Rapture, our corruptible bodies will will be glorified into Christ's perfect likeness, never more to age, get sick, or die. When we shall see Him (at His appearing) we shall be like Him (I John 3:2).

Philippians 3:3:20-21 says: For our conversation (citizenship) is in heaven; from whence also we look for the Saviour, the Lord Jesus Christ: Who shall change our vile body, that it may be fashioned like unto His glorious body, according to the working whereby he is able to subdue all things unto himself.

Christ must also return to reward His saints for faithful service on earth (I Corinthians 3: 8-15; I I Corinthians 5:10; I Peter 5:4).
The Kingdom of God Viewed From Two Perspectives
The heart and soul of Kingdom Age Ministry is the Blessed Hope spoken of in Titus 2: 13: the catching away of true believers in Christ up to heaven to be forever with Him, culminating in His personal rule over and restoration of a planet marred by the Fall of Adam. As we await His Return with joyous expectation, we are to live in the Spirit of His Kingdom, through the power of Christ Who has already won the victory through his finished work on the cross (Colossians 1:11-13; 2:15).

Christ reigns in the hearts of His people, but He does not yet occupy any earthly throne. He is seated at the right hand of the Father in Heaven, but He is not yet seated on the Throne of His father David in Jerusalem. Those of the amillenialist (no millennium) persuasion reject a literal interpretation of Scriptures which promise a 1000-year reign of Christ on earth. Many base this doctrine on Jesus' words in John 18:36: My Kingdom is not of this world. Also, they point to Luke 17:21 which says: the Kingdom of God is within you. They are content to know that the spiritual treasures of the Kingdom are laid up within the heart of the true believer, as indicated in Romans 14:17: The Kingdom of God is not meat and drink (carnal ordinances), but righteousness peace and joy in the Holy Ghost.

To me, the reality of the Kingdom of God within us can be likened to a queen expecting her firstborn son. She knows the future king is within her, and with him all the potential good he can do. She detects his movements, and maybe even his heartbeat.Sometimes she might even speak lovingly to him, as she dreams of the wonderful life she will have with him once he is born into the world. She wonders what kind of a king her son will make. Yet even though she can commune with the unborn child and delight in his presence, he is invisible to everyone else.

The baby is born. He turns out to be a wise prince, and a kind one who genuinely loves the people. For many years he wields little influence outside his family circle. He commands the loyalty and respect of a few friends who truly love him, and they are few indeed. These loyal friends have purposed in their hearts that they will not be swayed by the crafty rhetoric of the many pretenders to the throne who are busy spreading discontent and doing their worst to prevent the coronation of another King from a dynasty they despise.

The Prince is a very private person, though he quickly warms to those who love his ideals. He never forces his company on anyone, and only visits homes where he is made to feel welcome. Some people don't like him at all, and laugh at him behind his back for being an uncompromising square. Yet the Prince never forces anyone to show him respect or listen to his wise words. But the day will come when they'll have to.

Once hostile rivals andinsurgents have finally been rooted out and exiled, the Prince is crowned king. Now, by virtue of the exalted governmental office bestowed upon him, he is a powerful presence to everyone in the kingdom. All his subjects, friend and foe alike, must bow to him and obey his loving laws, whether they feel like it or not. The Prince hates having to discipline dissenters, but he knows that His Kingdom stands or falls on his own vigilance in enforcing his righteous edicts. His Kingdom, once confined to the hearts of those who chose to love him, is now a literal governmental power, with authority to put down all opposition. He, who formerly was lord only over his personal servants, is now lord over all.

Jesus was not rejecting this physical planet as a place to establish His perfect government. He obviously meant that He would not inaugurate His personal Reign under the auspices of this present-day world system which is ruled by the devil; a world ruled by powers of wickedness in high places, enforcing the chaos of sin and death (Eph. 6:12; Hebrews 2:14). This is a world Christians must triumph over through faith in Christ; the very One held in contempt by this world (John 7:7; 15:18-25; 16:33; 17:14; II Timothy 4:10; I John 2: 15-17).

The devil wields a formidable measure of power to control wicked men, and, though he is held on a leash by God and can only go so far. Some lightly dismiss the fact, but no wise general ever entertains delusions about the enemy. In Luke 4:5-8 Satan showed Jesus a vision of all the kingdoms of the world. Satan claimed that authority over them had been given into his hands, and he would set Christ over those kingdoms as vice-regent if only He would bow His knee in worship to him, the Prince of Darkness. Jesus knew full well the devil WAS the pretender to the throne of of the very earth He'd created, and had controlled its human governments ever since Creation fell into the Bondage of Corruption at the Fall of Adam (see Gen. 3:17-19 and Romans 8: 20-22). Creation is still groaning under the tyranny of the Evil One. If satan weren't really in the driver's seat of this ruined world Jesus could have said he was telling a baldfaced lie and dismissed the temptation on that basis alone. But Jesus said: "Get thee behind me, satan: for it is written, Thou shalt worship the Lord thy God, and Him only shalt thou serve."

Scripture calls satan the Prince of this world. Satan took advantage of Adam's high treason against God by installing himself as the Prince (behind-the scenes ruler) of this present evil world system (I Corinthians 2:6,8; II Cor.4:4; Ephesians 2:2; 6:12).In Daniel 10: verses 13 and 20-21 the Archangel Gabriel tells Daniel of the fight he and Archangel Michael waged against the kings and princes of Grecia and Persia, rulers of the darkness of this world spoken of in Eph.6:12. These evil beings were hindering the answer to Daniel's prayer from getting to him. They obviously were demonic rulers assigned by the devil over specific geographical territories. If an archangel were to physically fight a human king, it wouldn't be much of a contest! Notice in I Cor. 2:8: ....Which none of the princes of this world knew. for had they had known it (God's plan of salvation) , they would not have crucified the Lord of Glory.

Now it gets interesting. This verse is telling us that it was really the unseen powers of darkness who orchestrated the crucifixion of our Redeemer. Although Christ was given a trumped-up trial by Jewish authorities and unjustly sentenced to death by a Roman Governor, then nailed to a cruel cross by Roman soldiers, Satan and his demons were the real puppet masters behind these evil men. Even today human government reeks of corruption and injustice. Every cruel, unjust dictator who has ever lived has the stamp of the devil on his character. Every violent crime, every war, every miscarriage of justice in human courts affirms that the Paradise of Christ's Kingdom of perfect righteousness, beautifully described in Isaiah 11:1-10 is not yet here. When Christ said His Kingdom is not of this world, He meant it. The victory has already been secured through the Cross, but its full outward manifestation is yet future, despite the insistence of those who say He already reigns in every sense of the word. Anyone who has ever fallen victim to crime or injustice in this world would scoff at the notion that the glorious Paradise promised in the Millennial Reign of Christ is already here!

The day will come when gentle Jesus, the meek and lowly Lamb of God Who sacrificed Himself for the sins of the world, will, because He is altogether just, have to assume a sterner role which gives Him no pleasure: the Great Judge of unrepentant sinners. He will punish evil men who would destroy the earth (Rev. 11:18. Matthew 25:31-46 shows Him sitting in judgment on mortal men who survive the terrors of the Great Tribulation. They are divided into sheep and goats, according to how they treated "His brethren" (Jews and believing Gentiles). Righteous mortals will enter into His 1000-year Kingdom Age to repopulate a war-weary earth, while the wicked are sentenced to everlasting punishment.

The Lamb who first appeared among men as a baby in a manger, and the Savior Who allowed wicked men to crucify Him, will come again as the Lion of the tribe of Judah to put down all opposition to His Kingdom of Righteousness. Then he will be held in respect not only by the Church but the populace of the whole earth (Philippians 2:10-11; II Thessalonians 1:7-10; Rev. 5:5; 19:11-16). The very same Christ who bore patiently with the sinners who blasphemed His Name for thousands of years will roar in indignation because of the evil in the world (Isaiah 13:9-13; Joel 3:16). To be perfectly just as well as merciful, God must someday resolve the problem of evil in His Creation. He would much prefer that sinners receive His Son's free gift of salvation, but the vast majority will not. If people refuse to let Jesus pay for their sins, they must do it themselves, unfortunately.

So we see that the manifestation of the Kingdom of God within the heart of the believer does not preclude its future literal fulfillment on earth as taught in Scripture. Both are necessary, and it is part of God's eternal plan for the literal Kingdom to come to finally subdued all evil, and fulfill His promises to the Nation of Israel of a literal kingdom on earth (Acts 1:6-7). "All things" have not yet been subdued under his feet as I Cor. 15:24-28 assures us they one day will be. The two manifestations of the Kingdom, both inward, and outward, are no more incompatible than the reality of "Christ in us by faith" is in conflict with the Christ Who was raised to new life in His resurrection body!

Consider the prophecy in Revelation 11:15 of a not-so-distant future event: The Kingdoms OF THIS WORLD are become the Kingdoms of our God and of His Christ. And He shall reign forever and ever. That's pretty clear to me. I believe a passage of Scripture ought to be interpreted literally, unless a literal interpretation just doesn't make sense. In that case it should be understood allegorically. In Matt. 19: 27-28 Christ promises His twelve disciples they would sit on twelve thrones of rulership in the Kingdom of God. Now literal thrones demand a literal Kingdom to set them in!

To reiterate: Jesus' own Kingdom of peace and righteousness is definitely NOT of this present world system. Only those who carry within their hearts the values of Christ's Kingdom are worthy to participate in it, whether as mortal subjects or co-rulers of Christ who have been translated into immortality.This blessed Kingdom is at enmity with a world culture which rejects the values of God's Kingdom and rejects His love, as revealed in the Person of Christ Jesus; a world where the rich and powerful orchestrate wars to seize control of dwindling natural resources; where third-world workers barely eke out a subsistence wage; where multi-nationals destroy the earth's delicate ecosystem to squeeze ever more profits out of a doomed world; a morally bankrupt world where parents fear for the safety of their children, and agonize over their future, and whether they'll even have one!

The status quo must go. Christ must physically bind and imprison the devil, along with all the demons who control the world under him, before He can set up His own government on this planet. These minions of darkness will languish in a subterranean holding pen for 1000 years, during which time Christ will reign on the earth (Rev. 20:1-6). In those glorious days, there will be no such thing as a corrupt politician, or shady influences pulling the strings of government. Christ's Kingdom will be the Kingdom of Heaven brought down to earth, finally fulfilling this prayer written on the hearts of saints throughout the church Age: Thy Kingdom come, thy will be done, on earth as it is in heaven (Matthew 6:10).

Again, both the Lamb and the Lion are necessary facets of Christ's holy nature. They work together harmoniously to accomplish the will of the Father, for Christ is not divided against Himself (Matt. 12:25-30). The Lamb redeemed a lost Creation. His self-sacrifice on the Cross and resurrection victory over the power of death assured His future Reign over the earth. Once He is seated on the Throne of His father David in Jerusalem, the Lion will fight against all foes to defend the security and integrity of that Kingdom.

Even so, come Lord Jesus (Rev. 22:20).

These two prophecies briefly touch on the two manifestations of the of the Kingdom of God. The first speaks of the blessings of the Kingdom, which liberate people from the oppression of satan. The second one warns of the end of God's patience and that the Lion of Judah is about to roar from on high.
Kingdom Victory
Isaiah 33:24; 35:4-10; Matthew 10:7-8;11:1-6; 12:28; Mark 16:17-18; Hebrews 13:20-21
There is a belief that although Christians have been redeemed from the Curse of the Law through the Blood of the Lamb, they must suffer a penalty of physical infirmity for being descended from Adam and Eve, who fell in the Garden. There is much teaching today on how I can use weakness, tragedy or sickness to make a person more Christlike, so it is assumed that personal suffering is indispensable in sanctifying My people and I can do it no other way. Many even feel I cannot be pleased with them unless they are in a state of pain or distress. Such a viewpoint robs Me of glory, for the central focus ought to be on the merits of My suffering on the Cross of Calvary, and the power of the Blood of the Lamb to purify your inward parts.

The mortal believers who shall be born into My Kingdom during My 1000-year Reign will be physical descendants of Adam and Eve, even as saints of today are. They also will have to strive to overcome the resistance of the Adamic flesh nature. Yet they will not have to suffer physical infirmities or tragedies in order to be perfected into My likeness. During the blessed Kingdom Age, all faithful believers will live out their lives in perfect health, contentment, and joy. The devil will have been banished from the scene, and so will not be there to put their faith under fire through burdensome trials.

In this present dispensation the righteous do suffer, though you will not understand why until you see Me face to face. When he was thrown into prison, John the Baptist wondered why I did not use My power to release him from captivity. He needed further assurance that I was indeed the promised Deliverer. John received a reply which satisfied him: He was told of how I raised the dead, restored sight to the blind, made the lame walk again and the deaf to hear, and how the poor were hearing the Good News of Peace With God. These are the signs and wonders of My Kingdom which has triumphed over that of satan, and will soon be fully manifest in the earth.

I sent My disciples to proclaim the glad tidings of the coming of My Kingdom on earth. Physical healing is one of the many benefits of My Gospel message, along with salvation and daily sanctification. Even now, in these last days before I return to personally rule over this world, I want My people to have a foretaste of what Paradise on earth will be like. I want them to be healthy and strong, to receive miracles of intervention in time of need, and to go from strength to strength each day. I want them to experience Kingdom Victory in their lives right now.
Christ: A Lamb And A Lion
Psalms 7:11; 97:10; John 1:29; I Cor. 16:22; I John 3:8; Rev. 2:6, 5:5; 6:1; 15; 19: 11-18
Some Christian scholars make the mistake of trying to cram Me into a box of their own making, which doesn't extend beyond the limits of their own understanding. This may seem contradictory, but Christ is portrayed in Scripture as both a Lamb and a Lion. It is a common misconception that I am so meek I never raise My voice and never get angry, even at the worst sinners. My love, it is thought, simply won't permit that. I am expected to be a quiet mouse standing helplessly by on the sidelines watching satan do his dirty work unopposed.

For thousands of years I have dealt in restraint toward this wicked world, giving all men an opportunity to turn from their sins and choose life eternal. I came the first time as a sacrificial Lamb to atone for the sins of the world. But My lamblike nature doesn't make Me hate sin any less. Why would I have come to this earth to destroy the works of the devil if My patience and tolerance knows no bounds? Why shouldn't you and I hate what the devil is doing to condemn souls to an eternity in hell? You are called to be a spiritual warrior, not a nodding diplomat holding peace talks with the devil!

Soon I am returning to take My rightful place as King of kings, and it is then the Lionlike aspect of My nature will be fully manifest. I will uproot the wicked from this planet, and cast them into outer darkness, because they hated the Light and fought to snuff it out. Light cannot co-exist peacefully with darkness, anymore than a brothel can be consecrated to be used for My glory.
Hate the sin, but love the sinner. By all means, warn such a one in compassionate love. Many will continue to scoff and throw My gracious offer of salvation back into My face. Some consider the consecrated Christian a crank and a nuisance to civilized society. But when I shall appear to take My loved ones out of this decaying world, countless sinners will curse themselves for being so blind to the truth.

Don't ever let some well-meaning "Bible expert" tell you it's not okay to hate evil!