Welcome to KINGDOM AGE MINISTRY! This is an online ministry which aims to help the reader find the answers to life's deepest dilemmas through exploration of the Word of God.
For more information about the ministry, read:
Behold, I Seek My Own, a collection of prophecies divided into seven sections covering topics of crucial importance to the Body of Christ. Each section sold separately in loose binding.
Read samples of these prophecies:
The Yellow Jackets A 3-chapter mini-novel bringing to vivid life the tragedy of school bullying and its eternal consequences. Booklet Form. 3 illustrations, including cover design. More than 10,500 thrilling words.
Tough Love in Christ's Millennium
The crowning work of my lifetime. A two-volume novel packed with rich spiritual truth. A 24th-century man pits his stubborn human will against the authority of Christ's loving government. Action-packed drama. Not a quick read, but it's too deep for that. Illustrated.

Sample #1: Book I, Chapter Five The Crossroads
Sample #2: Book I, Chapter Twelve Sage Advice
Sample #3: Book II, Chapter Ten Rejoicing and Reproofs
Sample #4: Book II, Chapter Fourteen A Desolate Place
Sample #5: Cover Illustrations for Novel Set
Under Construction:
Bullying: A Spiritual Battle Personal insight into its causes. Powerful medicine from the Word of God to heal the bruised soul. Shows you how to draw upon the power of the Holy Spirit to resist satanic attack.

Excerpt From Bullying: A Spiritual Battle
FREE Readings:
The Hallelujah Network A Texas cowpoke steers people straight about tithin' (Fiction).

$et God's People Free The same spiritual meat served up in a comprehensive study.

God Cautions Against Pastoral Bullying A prophetical warning against pulpit abuse.

Greedy, Ah Wanna SEE Yew! A thievin' theologian flunks Love 101

Dead Religion vs. the Spirit of Life

Super Saint A Sad Imitation of Holiness
CHRISTIAN LINKS - Click here to see some of my favorite websites!

FOR SALE!
90 minute cassette:
"Untie Yourself from the Tithe"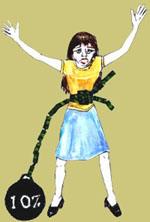 US $10.00
Send International Money Order to:
Patricia Backora
18 Rathmore Park
Derry
Northern Ireland
BT489BT

Allow 4-6 weeks delivery